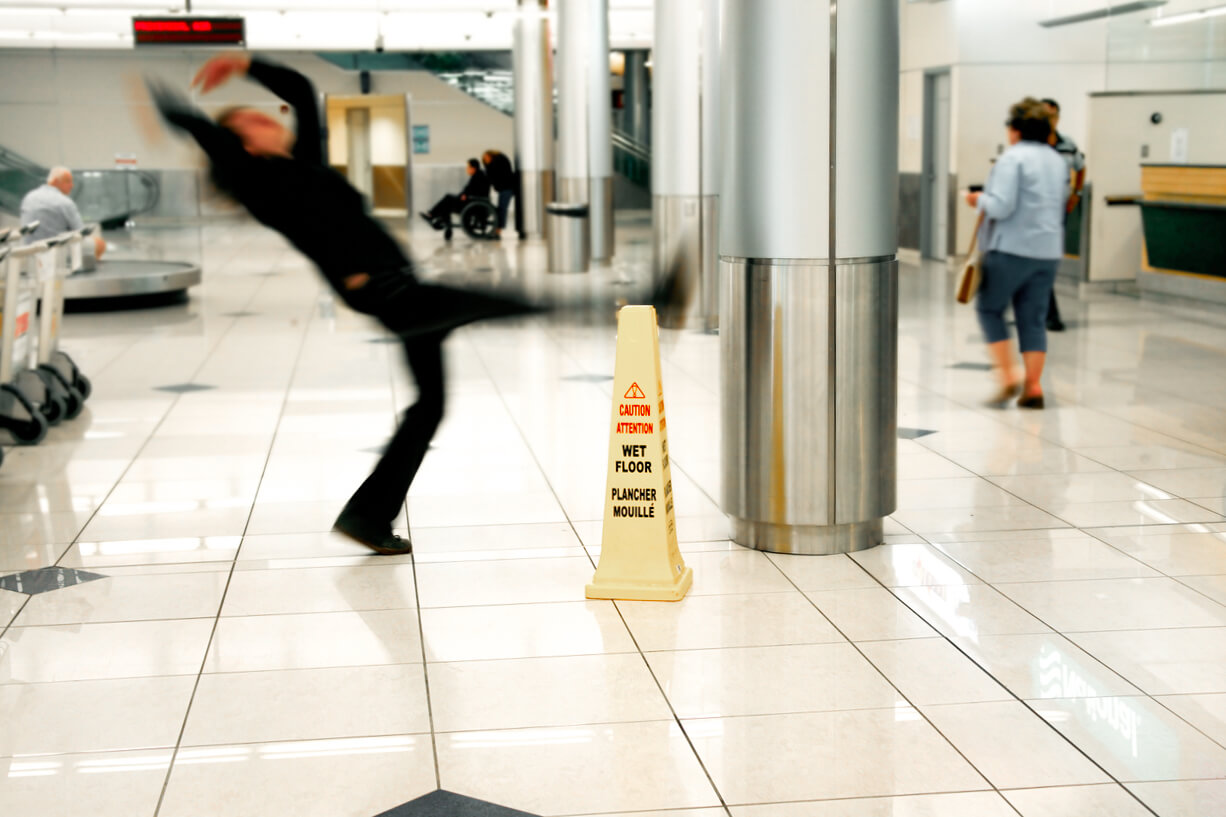 12 Feb

Can Airports Be Liable for a Visitor's Slip and Fall Accident?

South Florida boasts a number of bustling airports, large and small, that transport millions of domestic and international travelers each year. With so many variables that contribute to one's airport experience, there is a chance something can go wrong or an accident can occur. More specifically, you may experience a slip and fall accident or a premises liability accident.

Slip and fall accidents or premises liability accidents can happen because of the smallest maintenance oversight on a property. An airport property includes, but is not limited to, terminals, jetways, boarding ramps, airport trams, airport shuttles, airport parking lots, airport parking garages, etc. Some causes of a slip and fall or a premises liability accident at an airport can include broken or wet flooring, damaged escalators or moving sidewalks, faulty elevators, removal or lack of adequate handrails, faulty interior lighting in corridors, or exposed wiring. Any of these slip and fall accidents or premises liability accidents, among others, can be due to the negligence of airport operators; in which case, the accident victim may have a valid personal injury case.

Negligence refers to a third party's explicit duty of care. In general, Florida law requires that everyone take reasonable care or precautions to avoid injuries to others. For example, depending on the facts and circumstances of the incident, if the defendant was aware of a hazardous condition on the property and failed to correct that condition, a claimant may have a valid personal injury claim and the defendant may be liable for damages connected to the injuries sustained by the visitor.

If you or a loved one has sustained serious injuries due to the negligence of a South Florida airport, including Miami International Airport, Fort Lauderdale-Hollywood International Airport, or Palm Beach International Airport, please contact Cindy Goldstein. She can determine what legal steps may be initiated on your behalf. Because The Law Firm of Cindy Goldstein is a small, intimate one, you will receive the personalized attention and service you deserve. Her team is committed to fully addressing each client's case, to protecting the client's legal rights, and to aggressively advancing the client's interests, whether in negotiating for a settlement or taking a case to civil court.

No one deserves to pay the price for the negligence of another. Contact The Law Firm of Cindy Goldstein to secure a FREE legal consultation today.